Overdone Women's Monologues
The following list has evolved out of surveys of industry and educational professionals since 2005. Please note that the majority of these monologues are overdone because they are great, and that "overdoneness" should not trump great writing when it comes to choosing material. However, please notice the dates next to each entry, and know that many of these monologues are so well known, that some auditors could recite them along with you. Some auditors have no problem with over-and-often-done material, and some do. For a detailed survey of auditors on what they do and don't want to see in the audition room, and when you should and should not consider doing overdone material, please see my book, How to Choose a Monologue for Any Audition. —Karen Kohlhaas
Playwright/Year first produced/Character/Identifying line or topic
ACKERMANN/Marcus is Walking/2002/Caitlin/Monologue about flying in airplane
AUBURN/Proof/2000/CATHERINE/I lived with him
BAITZ/Other Desert Cities/2011/BROOKE'S monologues
BAITZ/The End of the Day/1990/HELEN/I think you married me so as to become an American citizen
BALL/Five Women Wearing the Same Dress/1993/GEORGANNE/Tommy Valentine
BALL/Five Women Wearing the Same Dress/1993/ALL OTHERS
BERMAN/2010/Until We Find Each Other/SOPHY/Here's me….
BERMAN/Hunting and Gathering/2008/BESS/Men don't know they want to be in relationship
BERMAN/Smashing/2003/Madonna and I were tigers in another life
BOCK/Drunken City/2008/MARNIE/All speeches about getting married
BOCK/The Receptionist/2007/BEVERLY/That's a good pen
BOGOSIAN/Talk Radio/1985/DENISE/Spoon in the garbage disposal
BOGOSIAN/Talk Radio/1985/LINDA/Sleeping with Barry Champlain
BRADFORD/Promedy/2009/ALL
CARIANI/Almost, Maine/2004/WOMAN/Speech about dead husband
CRAVIOTTO/Pizza Man/1991/JULIE/I was the girl who had everything
CRISTOFER/Shadow Box/1975/All female monologues
CRISTOFER/Lady and the Clarinet/1989/LUBA/Vomiting on desk of lover's secretary
DANIELS/Apartment 3A/1996/ANNIE/Sesame Street telethon speech
DORFMAN/Death and the Maiden/1991/PAULINA/When I heard his voice last night
DURANG/Betty's Summer Vacation/1999/BETTY/End of play monologue
DURANG/Beyond Therapy/1981/ALL
DURANG/'Dentitiy Crisis/1978/JANE/Peter Pan monologue
DURANG/Laughing Wild/1987/WOMAN/Tunafish monologue
DURANG/The Marriage of Bette & Boo/1973/ALL
DURANG/Sister Mary Ignatius…/1979/Speech about mother's death
EPHRON/Love, Loss and What I Wore/2008/ALL
FEIFFER/Feiffer's People/1968/ALL
FEIFFER/Hold Me!/1977/ALL
FEIFFER/Little Murders/1966/Patsy
FORNES/Fefu and her Friends/1977/ALL
GARDNER/A Thousand Clowns/1962/SANDRA/I didn't go to work this morning (blouse speech)
GERSHE/Butterflies are Free/1969/Jill Tanner/ALL
GESNER/LIPPA/You're a Good Man Charlie Brown/1967/ALL
GILMAN/Spinning into Butter/1999/SARAH/ALL
GIONFRIDDO/U.S. Drag/2008/ALLISON/Monologue about wanting fame and money
GROFF/Orange Lemon Egg Canary/2006/HENRIETTA/Magician monologue
GUARE/Marco Polo Sings A Solo/1977/DIANE/I really started cookin' when I was eight
GUARE/Landscape of the Body/1984/ROSALIS/Gorilla suit – porn audition speech
GUARE/House of Blue Leaves/1986/Bananas/The Green Latrine
GUARE/House of Blue Leaves/1986/BUNNY/I won't cook for you til you marry me
GUEST/Waiting for Guffman/1996/Libby Mae Brown's audition (bonus features)
HAMPTON/ Dangerous Liaisons/1985/ALL
HANLEY/Slow Dance on the Killing Ground/1970/ROSIE/Losing virginity speech
HARLING/Steel Magnolias/1989/ALL
HARRINGTON/Night Luster/1983/ROMA/I don't think people see me…voice to die for…etc
HEIMEL/A Girl's Guide to Chaos/1988/ALL
HENLEY/Crimes of the Heart/1979/ALL
HOWE/The Art of Dining/1979/ELIZABETH BARROW COLT/Mealtime was the much the same
HOWE/Painting Churches/1983/ALL
IIZUKA/Aloha Say the Pretty Girls/1999/ALL
JOHNSON/Brilliant Traces/1988/ROSANNAH/I was standing in the back of the church
JOHNSON/Brilliant Traces/1988/ROSANNAH/Extraterrestrials
JOSEPH/Gruesome Playground Injuries/2009/KAYLEEN/You can't marry that girl, Doug…"
KANE/4:48 Psychosis/2000/ALL
KAYSEN/Girl, Interrupted/1999/ALL
KEILLOR/Happy to Be Here/1999/Snow White speech
KORDER/Search and Destroy/1992/MARIE/Movie pitch/penis claw monologue
KRAMER/Wall of Water/1998//Last cigarette speech
KRON/Well/2004/Costume party monologue
KUSHNER/Angels in America: Perestroika/1992/HARPER/Night flight to San Francisco…
KUSHNER/A Bright Room Called Day/1987/PAULINKA/Black poodle as the devil
KUSHNER/A Bright Room Called Day/1987/ZILLAH/Dear Mr. President
LABUTE/Autobahn/2006/Stalking the guy
LABUTE/Autobahn/2003/Most or All
LABUTE/Fat Pig/2004/Most or All
LABUTE/Mercy Seat/2002/Most or All
LABUTE/Reasons to Be Pretty/2008/Most or All
LABUTE/The Shape of Things/2001/Most or All
LABUTE/Some Girls/2005/Most or All
LETTS/August: Osage County/2009/KAREN/That pillow was a better husband…
LINDSAY-ABAIRE/History Lesson/2002/Maggie/ALL
LINDSAY-ABAIRE/Wonder of the World/2001/Barbie Head Monologue
LINDSAY-ABAIRE/Rabbit Hole/2006/BECCA/Hitting woman in supermarket
LONERGAN/Lobby Hero/2001/DAWN/ALL
LUCAS/Blue Window/1984/LIBBY/Falling off the balcony
LUCAS/Reckless/1988/ALL
MAMET/Oleanna/1992/CAROL/You did it to me. Here.
MAMET/Oleanna/CAROL/1992/Other monologues
MARBER/Closer/2000/ALICE/I like your bed
MARGULIES/Collected Stories/1996/Lisa/ALL
MARTIN/Talking With/1981/ALL
MARTIN/Vital Signs/1989/ALL
MARTIN/Picasso at the Lapin Agile/1998/SUZANNE/Sleeping with Picasso
MARTIN/Picasso at the Lapin Agile/1998/ALL OTHERS
MARTIN/Patter for the Floating Lady/1995/ANGIE/Sand in the tennis shoe
MASTRIOSIMONE/Woolgatherer/1979/ALL
MASTRIOSIMONE/Extremities/1980/ALL
MASTRIOSIMONE/Shivaree/1983/SHIVAREE/Well sport you can dance for dance
MAY/Not Enough Rope/1962/Edith/All
MCNALLY/Bad Habits/Dolly/1971/Tropical Fish
MCNALLY/Frankie and Johnny and the Claire de Lune/1987/FRANKIE/My grandmother…
MEE/Big Love/2001/All Female
MEE/True Love/2000/All Female
MILLER/Penetration Play/2004/RAIN/Last night wasn't….
MINGHELLA/1988/Cigarettes and Chocolate/GEMMA/All versions
MOORE/American Klepto/2007/WOMAN/Petrified wood monologue
MURRAY-SMITH/Honor/1995/SOPHIE/I wish I was…like you
MURRELL/Waiting for the Parade/1977/CATHERINE/When Billy and I were first married
NASH/The Rainmaker/1954/LIZZIE/ALL
NEWMAN/Quilters/NA/Sunbonnet Sue
NIGRO/Seascape with Sharks and Dancer/1985/TRACY/Problem with loving squashable animals
NORMAN/Getting Out/1977/ARLIE/Frog squishing speech
NORMAN/'Night Mother/1982/JESSIE/I am what became of your child
PATRICK/Kennedy's Children/1973/CARLA/I wanted to be a sex goddess
PIELMEIRER/Agnes of God/1979/ALL
RABE/Hurlyburly/1984/ALL
RABE/In the Boom Boom Room/1973/CHRISSY/…and a piece of meat is all I am
RABE/In the Boom Boom Room/1973/ALL OTHERS
RAPP/Stone Cold Dead Serious/2003/SHAYLEE/Tomato baby
REBECK/Bad Dates/2003/All
REBECK/Loose Knit/1994/MARGIEI want you to f*** me in that car of yours
REBECK/Mauritius/2006/Stamp monologue
REBECK/The Scene/2006/CLEA/At the party
REBECK/The Scene/2006/CLEA/I'm from Ohio, isn't that hilarious?
REBECK/Spike Heels/1994/GEORGIE/Who made up these rules
REBECK/Spike Heels/1994/ALL OTHERS
RICKMAN/CORRIE/My Name is Rachel Corrie/2003/Rachel/All
ROYAL/Dog Sees God/2005/VAN'S SISTER/Burn the bitch's hair off
RUDNICK/*FILM*/In And Out/"Does anyone here know… Funny Lady?"
RUDNICK/Valhalla/2004/SALLY/Feelings for James Avery
RUHL/Clean House/2004/MATILDE/The deaths of her laughing parents
RUHL/Clean House/2003/VIRGINIA/I always clean my own house
RUHL/Dead Man's Cell Phone/2007/JEAN/You know what's funny? I never had a cell phone
RUHL/Dead Man's Cell Phone/2007/JEAN/Woman on phone saying "Shit, shit"
RUHL/Melancholy Play/2001/TILLIE/All
SAYLES/Passion Fish (film)/1992/Anal probe speech
SHANGE/For Colored Girls…./1975/ALL
SHANLEY/The Big Funk/1990/JILL/I'm talking to you from my subconscious mind
SHANLEY/The Dreamer Examines His Pillow/1985/Donna/ALL
SHANLEY/Savage in Limbo/1984/SAVAGE/I feel strong
SHANLEY/Savage in Limbo/1984/ALL OTHERS
SHANLEY/Where's my Money?/2002/ALL
SHANLEY/Women of Manhattan/1985/RHONDA/Why she keeps his tennis shoes
SHANLEY/Women of Manhattan/1985/ALL OTHERS
SHENGOLD/Lives of the Great Waitresses/1996/TAMMIE SUE/Ugly guy who was great in bed
SHEPARD/Buried Child/1978/SHELLEY/ALL
SHEPARD/Cowboy Mouth/1971/CAVALE/You're so neat – ugly duckling speech
SHEPARD/Fool for Love/1983/MAE/ALL
SHEPARD/Icarus' Mother/1965/JILL/Peeing on the beach speech
SHINN/Other People/2000/PETRA/Fish stew speech
SILVER et al /A…My Name is Alice/1983/WOMAN/Yelling at the jock strap in the wash
SILVER et al/A…My Name is Still Alice/1984/WOMAN/Bridal registry
SILVER/Fat Men In Skirts/1991/POPO MARTIN/My name is Popo Martin
SILVER/The Food Chain/1994/Amanda/Waiter asked if I was alone
SILVER/The Maiden's Prayer/1998/Libby/Slept with fat man from bar
SIMON/Star Spangled Girl/1966/SOPHIE/Mr. Cornell, ah have tried to be neighborly
SIMON/Brighton Beach Memoirs/1983/NORA/Papa's coat pocket
SIMON/Chapter Two/1977/Jennie/You know what you want better than me George
SIMON/Last of the Red Hot Lovers/1969/JEANETTE/Do you know Charlotte Korman
SIMON/Virtually any female character from Neil Simon's major plays
SLADE/Romantic Comedy/1979/PHOEBE/Marshmallows out the nose
SNYDER/The Days and Nights of BeeBee Fenstermaker/1964/BeeBee/ALL
SONDHEIM/Assassins/1990/SQUEAKY FROMME/Charlie Manson speech
SON/Stop Kiss/1998/CALLIE/Talking to unconscious girlfriend in hospital
TAYLOR&BOLOGNA/Lovers and Other Strangers/1968/ALL
TESICH/Passing Game/1977/JULIE/Richard, are you asleep?
TOPOR/Nuts/1980/CLAUDIA/I used to say I love you to the moon and down again
TOPOR/Nuts/1980/CLAUDIA/ALL OTHERS
TREEM/A Feminine Ending/ALL
VOGEL/How I Learned to Drive/1997/ALL
WADE/Key Exchange/1986/LISA/Father built sandbox for dying mother to watch kids
WAGNER/Search for Signs of Intelligent Life…/1985/ALL
WASSERSTEIN/Heidi Chronicles/1988/ALL
WASSERSTEIN/Isn't It Romantic?/1981/ALL
WASSERSTEIN/Uncommon Women and Others/1975/ALL
WILDER/Our Town/1938/Emily – a classic, done a lot, have a reason for doing it
WEISMAN/Be Aggressive/2001/Laura/Remembering her mother
WELLER/Split/1977/MARGE/Stevie Wonder monologue
WILSON/Fences/1983/Rose/ALL
WILSON/Burn This/1987/ANNA/Insects pinned to the wall
WILSON/The Gingham Dog/1968/GLORIA/I used to pray, I really did
WOLFE/The Colored Museum/1986/TOPSY/Yoho! Party! Party!
WRIGHT/The Pavillion/2005/KARI/ALL
ZECCOLA/Scuba Lessons/1997/KELLY/Did you ever wake up and know it was going to be your day?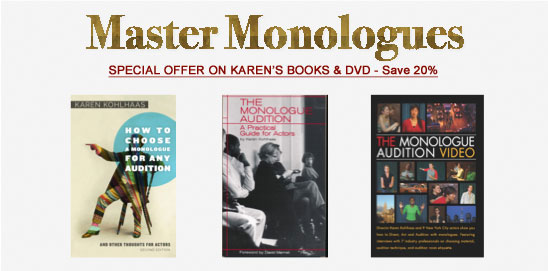 OFTEN-DONE WOMEN'S SHAKESPEARE MONOLOGUES
There are a finite number of Shakespeare monologues, so the most accessible roles for actors in their 20's tend to be overdone. Some auditors urge actors to find classical monologues from writers other than Shakespeare. However, others would rather see actors do something very well known, than a piece that is not as good, or too difficult for the actor. Choose carefully!
All's Well That Ends Well/HELENA/Then I confess, here on my knee
As You Like It/PHEBE/Think not I love him, though I ask for him
As You Like It/PHEBE/I would not be thy executioner
As You Like It /ROSALIND/And why, I pray you? Who might be your mother
Hamlet/OPHELIA/Alas my lord I have been so affrighted
Hamlet/OPHELIA/O what a noble mind is here o'erthrown
Henry IV Pt 2/LADY PERCY/O yet, for God's sake, go not to these wars!
Julius Caesar/PORTIA/Nor for yours neither. You've ungently Brutus
Julius Caesar/PORTIA/Is Brutus sick? And is it physical
King John/CONSTANCE/I am not mad, this hair I tear is mine…
Macbeth/LADY MACBETH/Was the hope drunk wherein you dressed yourself?
The Merchant of Venice/PORTIA/I pray you, tarry: pause a day or two
The Merchant of Venice/PORTIA/You see me, Lord Bassanio, where I stand
The Merchant of Venice/PORTIA/The quality of mercy is not strain'd
A Midsummer Night's Dream/HELENA/How happy some o'er other some
Othello/EMELIA/But I do think it is their husband's faults if their wives do fall
Richard III/ANNE/Set down, set down your honourable load
Romeo and Juliet/JULIIET/O Romeo, Romeo. Wherefore art thou Romeo?
Romeo and Juliet/JULIIET/Gallop apace, you fiery footed steeds
Troilus and Cressida/CRESSIDA/Hard to seem won: but I was won, my lord
Twelfth Night/VIOLA/I left no ring with her: what means this lady?
Two Gentlemen of Verona/JULIA/O hateful hands, to tear such loving words!
The Winter's Tale/HERMIONE/Sir, spare your threats
The Winter's Tale/HERMIONE/Since what I am to say
The Winter's Tale/PAULINA/What studied torments, tyrant hast for me?